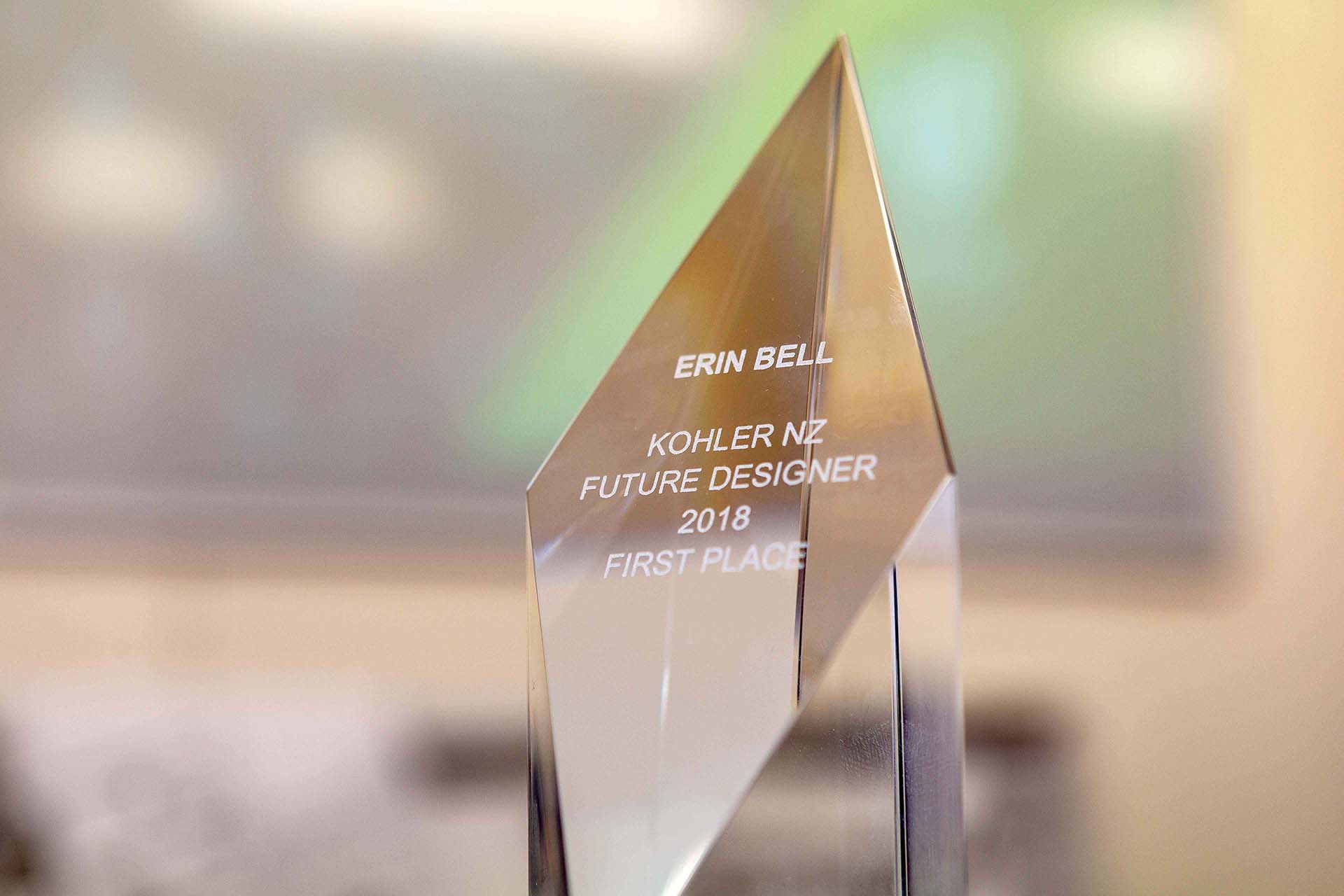 A 29-year-old design student, from Auckland's Unitec Institute of Technology, has won Kohler New Zealand's inaugural Future Designer Award 2018.

Kohler, one of the world's leading bathroom manufacturing companies, launched the competition earlier this year in a bid to recognize New Zealand's young design talent and explore its vision for the bathroom of the future.

Judged by Kohler's UK-based director of new product development, Kitchen and Bathroom, Mark Bickerstaffe, the competition attracted dozens of entries from talented, forward-thinking design students.

Erin Bell, of Warkworth, took first prize with her concept for The Bathroom Island, a futuristic, sculptural piece celebrating the body, its health and its diversity. A sybaritic zone for cleansing, pampering, health analysis and beauty rituals, the design pays homage to both the human body and the planet. Materials are natural and unadorned, technology brings a new level of sophistication to personal health while lighting and ergonomics are designed to complement individual bodies and skin tones.

The Bathroom Island also recognizes the growing urgency around environmental issues,with all materials chosen for their sustainability and respect for the health of the planet. No plastics are used, electricity is generated from solar panels, towels have been replaced by integrated hand, face and body dryers and large windows create a light-filled space that is less reliant on electricity to illuminate and warm it.

"The Bathroom Island is a retreat within the home holistically designed to support our health and well-being amidst our busy lives. I feel we have an opportunity and responsibility to design spaces now and into the future that are not just healthy to live in but are ethically and environmentally considerate. The nude color scheme compliments skin and body tones and reflects the natural raw state of how we are in the bathroom" said Erin.

In announcing the winner, Mark Bickerstaffe commented, "Erin's design is a vision of the highest quality and very well done. Beautifully presented, it is seductive, sensitive and in tune with the bold and gracious life we all hope to live in the future. The Bathroom Island subtly incorporates the connectivity and enhanced experience that technology can deliver."

Runner-up was 22-year-old Connor Smith of Auckland University of Technology for his 'barrage' of ideas that explore the challenges of living graciously amidst urban densification – including adaptive facial recognition technology, vanity unit with concealed bath, auto-adjusting showerhead and water infusion unit for body care products. The potential of the transformative bathroom was highlighted with the innovation challenge of accomplishing it simply, intuitively and with better experience as a result. AUT Industrial Design students did very well, taking up 6 places in the final top ten.

The top 10 entries from Kohler's inaugural Future Designers' Award can be seen on the company website – go to www.kohler.co.nz

Contact Rebecca Sunderland at Kohler on +64 9 980 6841 for more information.