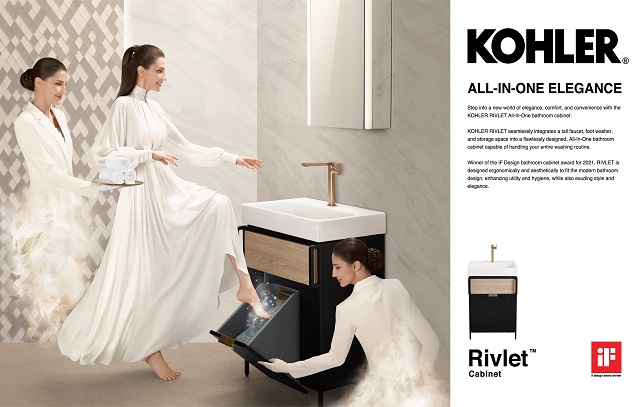 KOHLER, APAC – Kohler Co., a global leader in the design and manufacture of kitchen and bath products, invites you to step into a new world of elegance, comfort and convenience with the world's first KOHLER Rivlet. This all-In-One cabinet is designed to provide a one-stop solution for consumers who want to wash both hands and feet in a way that is quick and hygienic.
The user-friendly KOHLER Rivlet seamlessly integrates a tall faucet, foot washer and storage space into a flawlessly designed, All-In-One bathroom cabinet capable of handling your entire washing routine. Users can comfortably wash their hands and arms while minimizing water waste, as well as countertop and floor wetness.
The unit also houses a lower panel that, when opened, reveals a pressure-activated step paddle that eliminates the need for users to bend over uncomfortably to wash their feet, making the process safer and more efficient. Grab bars are installed on both sides of the cabinet to ensure that it is safe and convenient for both children and older generations.
A large drawer and side cabinets provide ample on-the-spot storage. The entire unit is covered in Kohler HydroShield™ which provides excellent water-proof performance in hot and humid environments.
Winner of the iF Design bathroom cabinet award for 2021, Rivlet is designed ergonomically and aesthetically to fit the modern bathroom design, enhancing utility and hygiene, while also exuding style and elegance. In addition, Rivlet was also honored with the Singapore Good Design Award, an accolade that rewards designers as "natural problem solvers" who can make a meaningful contribution to society through "innovation in design."
·····
About Kohler Co.
Founded in 1873 and headquartered in Kohler, Wisconsin, Kohler Co. is one of America's oldest and largest privately held companies comprised of more than 35,000 associates. With more than 50 manufacturing locations worldwide, Kohler is a global leader in the design, innovation and manufacture of kitchen and bath products; engines and power systems; luxury cabinetry, lighting and tile; and owner/operator of two, five-star hospitality and golf resort destinations in Kohler, Wisconsin, and St. Andrews, Scotland. Kohler's Whistling Straits golf course will host the Ryder Cup in 2021. The company also develops solutions to address pressing issues, such as clean water and sanitation, for underserved communities around the world to enhance the quality of life for current and future generations. For more details, please visit www.kohler.com.