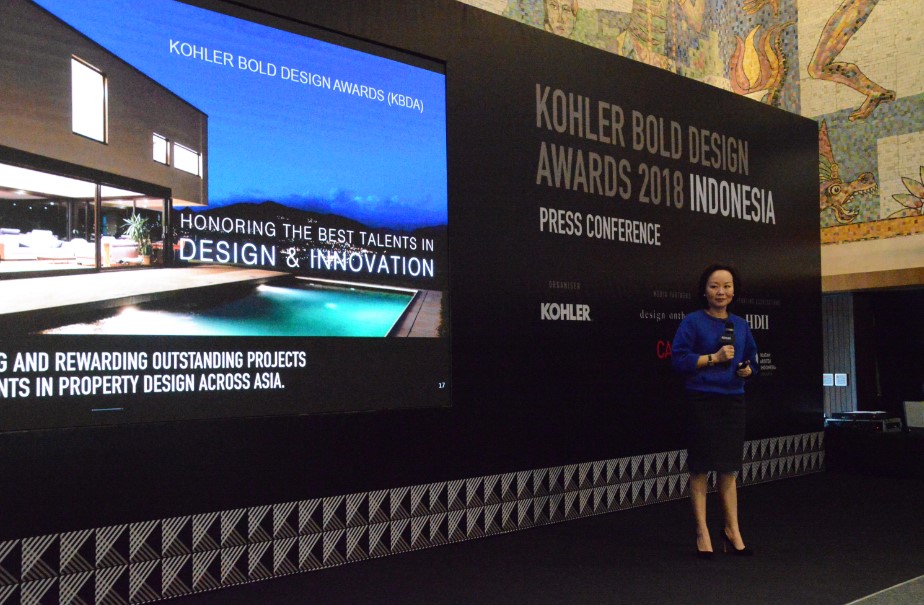 Kohler holds the KOHLER Bold Design Award (KBDA) competition for the first time in Indonesia and hope to inspire the industry to continuously innovate and develop projects that will help promote and advance the practice not just in Indonesia, but the world as well. The KOHLER Bold Design Awards was created to discover and reward the best people in property design and innovation. The KOHLER Bold Design Award is held for the second time in Southeast Asia region and the first time in Indonesia.

"Indonesia is a huge market for hospitality, residential and commercial properties driven by the high growth of the middle-class and affluent consumers in this country. It is rich with buildings with outstanding designs, some of them were recognized in Southeast Asia or and in the world. A number of Indonesia's property designers have succeeded to win awards in the international stage or work on world-class projects overseas." said Miss Angel Yang, President of Kohler Kitchen and Bath Asia Pacific.

KBDA is open to project and retail architects, designers and property developers as well as hotel operators who has made bold differences in the designs of hospitality, residential and commercial property projects built in Indonesia.

The participants must show boldness and creativity, space/building aesthetics, usability and practically design, and be able to impact and improve design standards in Indonesia. They will compete in categories, such as villas, apartments, high-rise residential, resort/urban hotels, leisure, and culture. KBDA also gives special awards to influencers, rising talents, and icons in the property design industry. They have made outstanding contributions to the sustainability and innovative projects so far," said Miss Angel Yang.
"Besides the recognition, winners will also have an opportunity to expand their network and to strengthen relationship with top management from property projects, developers, architects, and designers across the region," she added.

Panel of Judges

A team of 6 renowned international and Indonesia architects and designers are invited to the panel of judges to evaluate and select the most exceptional projects and talents.
The panel of judges include:
Alexandra Champalimaud, founder of the New York based studio, Champalimaud
Tony Chi, founder of an award-winning studio Tony Chi based in New York
Jean-Michel Gathy, a Belgian designer who founded DENNISTON in 1983
Hidajat Endramukti, Founder and Principal, Budipradono Architechs
Andra Martin, founder of Andra Martin
Faried Masdoeki, Design Director, Hadiprana.
Winners of the KOHLER Bold Design Awards 2018 will not only be presented with a trophy, but their works will also be showcased on KOHLER's social media platforms, literatures and collaterals, as well as exposure in Design Anthology, CASA such leading interior design magazine as well as other media
Interested participants may submit their entries at the Kohler Bold Design Awards website: https://kbda-ap.com/ start from September 19 until January 8, 2019. The nominees will be announced at February 1, 2019. The winners will be announced at the gala dinner award ceremony in March 2019.
For inquiries, you may send an email to Kohlerasiapacific@kohler.com.

About Kohler Co.
KOHLER® was founded in 1873 and is headquartered in Kohler, Wisconsin, USA. Kohler Co. is one of America's oldest and largest privately held companies. With more than 50 manufacturing locations worldwide, KOHLER is a global leader in the manufacture of kitchen and bath products; engines and power systems; premier furniture, cabinetry and tile; and owner/operator of two of the world's finest five-star hospitality and golf resort destinations in Kohler, and St Andrews, Scotland. Kohler has been consistent in setting new standards in design, craftsmanship and innovation. The brand's reputation is rife with compelling accomplishments and bold innovations that stem from a heritage centered on living on the leading edge of design and technology.

In Asia Pacific, KOHLER is active in 14 major countries and territories. More information can be found at kohlerasiapacific.com.
For media inquiries please contact:
Nabila
Bening Communication
Email: Nabila@bening-communication.com
Mobile: +62 82112135075

Nina Pelawi
Senior Marketing Manager
Kohler Indonesia
Email: Nina.Pelawi@kohler.com

Benedictus Teguh
Senior Marketing Specialist
Kohler Indonesia
Email: Benedictus.Teguh@kohler.com

Kohler Indonesia digital platform:
WEBSITE : www.kohler.co.id
FACEBOOK : https://www.facebook.com/kohlerind
INSTAGRAM : https://www.instagram.com/kohlerid/
Designer Blog : www.kohler.design