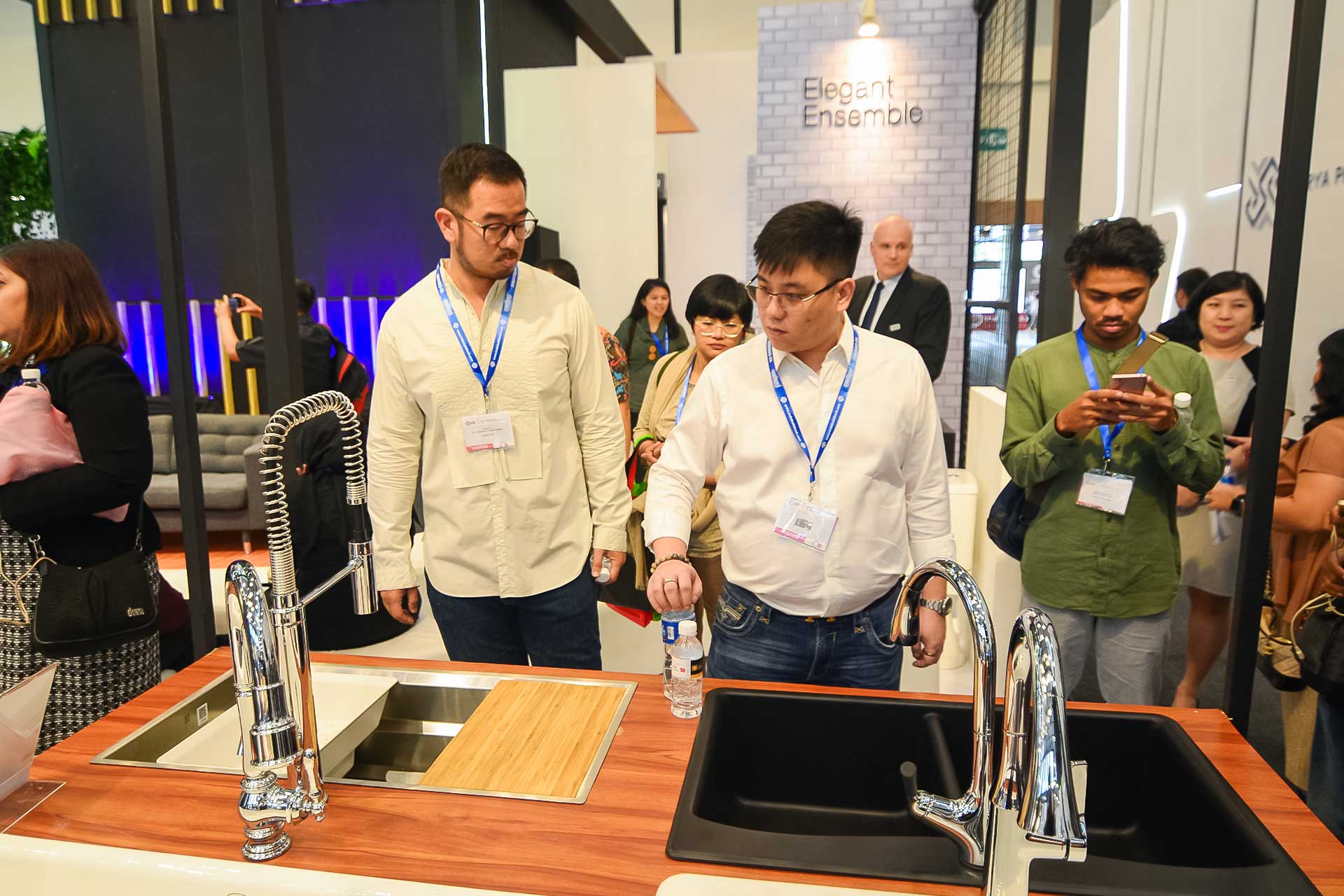 JAKARTA, Indonesia, 21 March 2019 – Kohler Co., a global leader in the design and manufacture of kitchen and bath products, introduces series of products that brings a whole new meaning to living on the leading edge of design in the Components, Veil Lighted Suite and MaxiSpace series, as well as the perfect marriage of technology and art in Veil Lighted series. Come and visit Kohler's booth at IndoBuildTech 2019, Indonesia Convention Exhibition (ICE) BSD, Hall 9, 9-V-1A.
"We are very excited to launch many new products to our partners, distributors, and media friends here at IndoBuildTech 2019. KOHLER's mission is to contribute to a higher level of gracious living for those who are touched by its products and services. Enriching and improving the lives of associates and residents within the communities where Kohler Co. operates, have always been an integral part of the company's culture," said Dirk Lange, Managing Director, Kohler Kitchen and Bath Indonesia.
For Indonesian customers that are looking to design their own signature look, Components is a versatile collection that was designed to be designed. It is a full bathroom faucets and acessory collection for the contemporary bathroom that speaks to the many facets of modern design. Every element, from spouts and handles to the accessories that complete the space, is designed to feel like a minimalist. This collectione invites the customers to combine a faucet spout with their style of handles, creating their own masterpiece.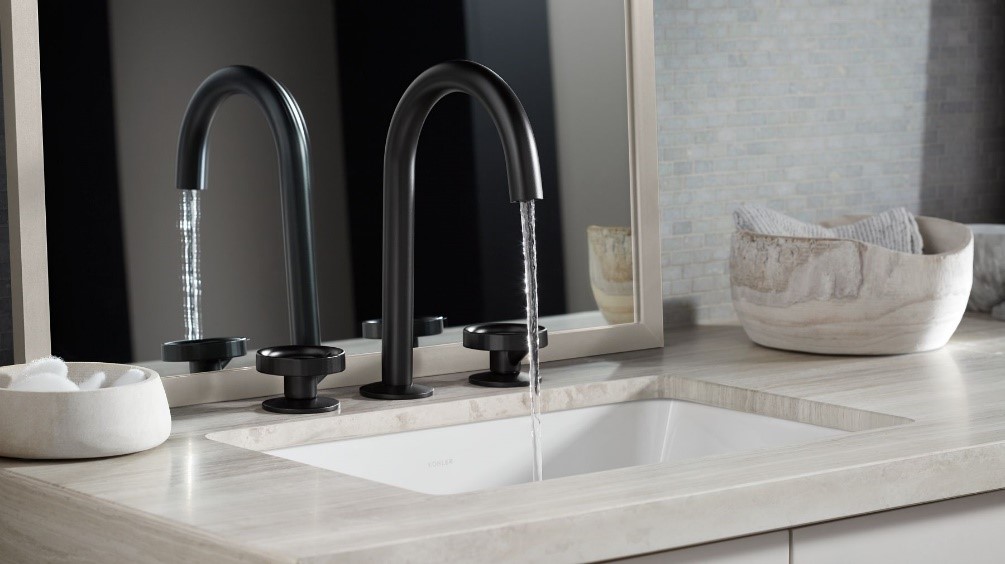 Faucet from KOHLER's Components Collection
The Veil Lighted Suite will serve the customers with appropriate lighting to guide their way and allow for a more comfortable and natural start of their day or help them ease back into sleep instead of the normal jarring bright light that we would usually see in a bathroom at all times of the day. The Veil Lighted Collection is a part of Kohler Smart Home concept, for users who seeks strategically-placed lighting assist with guiding, task, ambiance or a combination within the same bathroom setting. No more fumbling for light switches with motion sensor, with added value of ease of visibility for your guests who are unfamiliar with the bathroom space. The integrated lighting works off a circadian rhythm to more naturally enhance your wellbeing.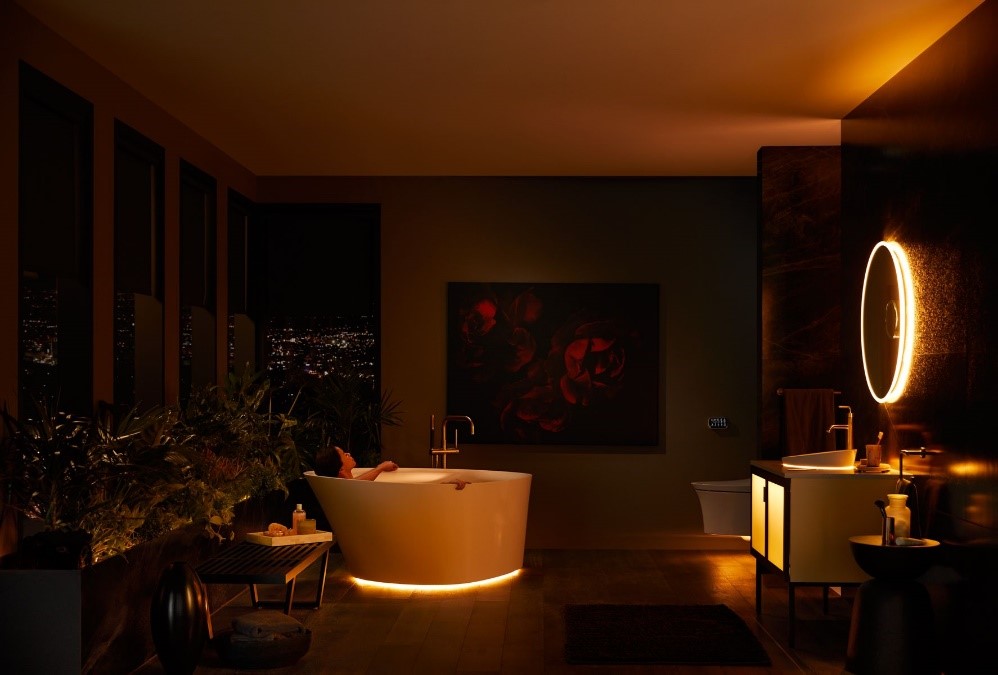 KOHLER's Veil Lighted Bathroom Series
How do you put 100 pieces of commodities into a bathroom of just four square meters? The optimal solution is to maximize the storage space. Kohler MaxiSpace Bathroom Furniture helps the customers to make more of the space they already have. Kohler has various of products under the Maxispace line, from mirrored cabinets, vanity top to toilet which provides storage space above and at the sides of the toilet. Kohler has more value-added features such as the wash board which is also a sliding dry deck for placing small items or the drain system that has been pushed to the back of the lavatory to save 30% space within the cabinet.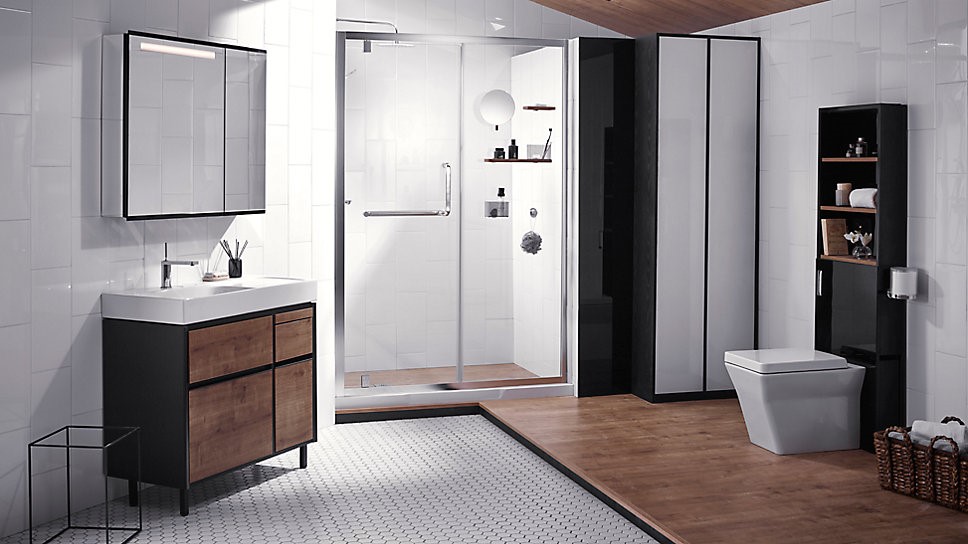 KOHLER's MaxiSpace Bathroom Furniture
Kohler contines to innovate and develop new designs, technologies and materials to keep improving the experience with Kohler's products and services. The company will increase the effort in the development of bathroom products combining design and technology like intelligent toilets, bidet seats, IoT bathroom solutions, whirpools, among other things. Kohler observes the increasing demand of these kinds of products in Indonesian markets and foresee there will be substantial growth in the coming years. Indonesian consumers are particular about details and expect new cutting edge technology and innovation integrated into bathroom products. Kohler believes in the ability to answer these needs of an increasingly sophisticated customer base.
About IndoBuildTech
Indobuildtech Jakarta is Southeast Asia's largest building and interiors exhibition that attracting key buyers and manufacturers from around the world. Annually over 50,000 professionals and trade specialists visit the trade show where more than 1,500 brands present their latest products, services, and technologies in the building, finishing materials, and interior market. Indobuildtech takes place from 20 to 24 March 2019 at Indonesian Convention Exhibition (ICE), BSD City.
About Kohler Co.
Founded in 1873 and headquartered in Kohler, Wisconsin, Kohler Co. is one of America's oldest and largest privately held companies comprised of more than 37,000 associates. With more than 50 manufacturing locations worldwide, Kohler is a global leader in the manufacture of kitchen and bath products; engines and power systems; premier cabinetry and tile; and owner/operator of two of the world's finest five-star hospitality and golf resort destinations in Kohler, Wisconsin, and St. Andrews, Scotland.
In Asia Pacific, KOHLER is active in 14 major countries and territories. More information can be found at kohlerasiapacific.com.
Media Contacts:
Vina Ramitha
Bening Communication
Email: vina@bening-communication.com
Nina Pelawi
Senior Marketing Manager
Kohler Indonesia
Email: Nina.Pelawi@kohler.com
Benedictus Teguh
Senior Marketing Specialist
Kohler Indonesia
Email: Benedictus.Teguh@kohler.com
Kohler Indonesia digital platform:
WEBSITE : www.kohler.co.id
FACEBOOK : https://www.facebook.com/kohlerind
INSTAGRAM : https://www.instagram.com/kohlerid
Designer Blog : www.kohler.design