Singapore, 16 August 2018 – Kohler Co., global leader in kitchen and bath design and innovation, hosted the Singapore edition of the KOHLER Design Forum in the KOHLER Experience Center today. This year's theme of "All Things Connected" provided a platform for the architecture and design industries to join in the discussion of shaping the future of the Singapore industry through the exchange of experiences, insights and ideas. The forum consisted of insightful presentations, discussions and panels by industry leaders on trending themes and topics, and offered opportunities for architects and designers to inspire and be inspired.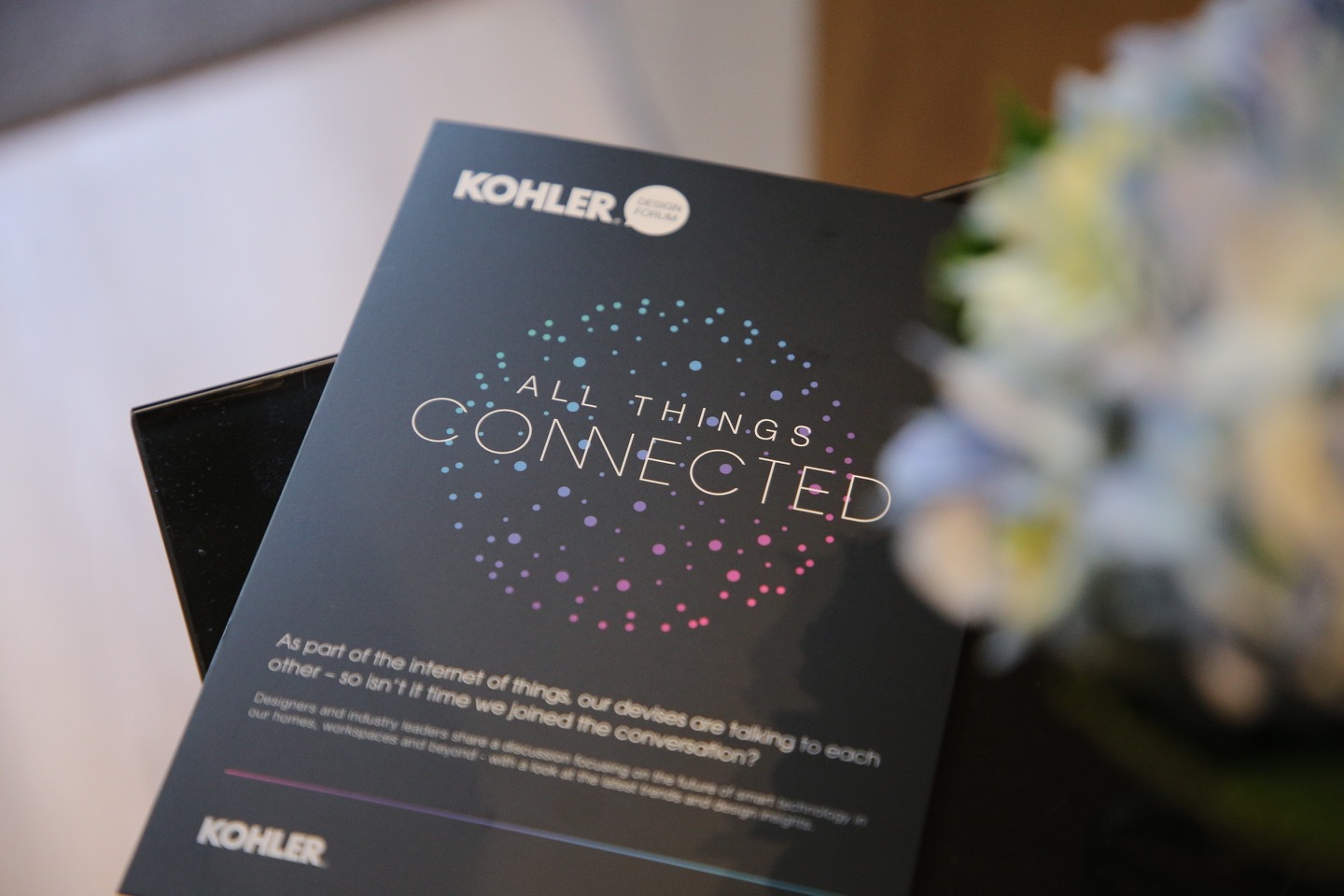 "The future of architecture and design is being informed by today's events, and it is crucial for the talented and aspirational voices within this industry to rise above and give shape to what we will see in 10 or 15 years," said Larry Yuen, Kohler Co. Kitchen and Bath Group President. "The KOHLER Design Forum has been crafted to provide a place and time for this invaluable exchange to occur, and this year's theme of All Things Connected puts the spotlight on the growing and rapid integration of technology into our lives and how this is and will inform, shape and disrupt the design world."

Several forums have been held in key design hubs throughout Asia and Europe over the last three years, and have presented the insights from influential and award-winning designers and architects all over the world. This year's forum in Singapore saw a panel of speakers consisting of design professionals from various fields, including Professor Dr.Gerhard Schmitt,who is known for his research on intelligent design support systems using artificial intelligence methods, Michael Wang – Senior Continent Head at Marriot, Steven Shaw,known for designing notable offices across the globe, and lastly, Mark Bickerstaff – Director of New Product Development for Kohler Kitchen and Bath in Europe and Asia Pacific.

Hosted in conjunction with Monocle, a global affairs and lifestyle magazine, the new series was moderated by James Chambers, Bureau Chief at Monocle. Conversations were focused on how smart technology is shaping the world we live in and offered an interactive discussion on the integration of design and technology into our daily lives, touching on meaningful topics such as 'Responsive Cities' and discussing the use of smart technology in a people-centric way, and where the possibilities of artificial intelligence might take us.

During the panel, Mark Bickerstaff, Director of New Product Development Kitchen & Bath, Kohler Co. also shared his insights on connectivity and artificial intelligence in the bathroom, and elaborated on how Kohler's rich history of 145 years has enabled the company to create industry-leading deigns for its consumers.

The new series of KOHLER Design Forums come on the heels of Kohler's successful and widely shared launch of the KOHLER Konnect Smart Home suite that includes the Verdera Voice lighted mirror with Amazon Alexa, and products enabled with KOHLER Konnect: DTV+ showering system, Numi Intelligent toilet and Sensate kitchen faucet, among others. Kohler's new platform and product suite offer consumers the path to a bathroom with integrated voice control that provides enhanced convenience and connectivity.

Looking ahead, Angel Yang, President Kitchen & Bath Asia Pacific of Kohler Co. shared about the company's aspirations, "As Kohler continues to grow its presence in the Asia Pacific region, we look forward to continuously building new capabilities and partnerships to deliver innovative solutions for this region and beyond".

To learn more about Kohler's suite of products, visit kohler.com.sg to find out more.

About KOHLER
KOHLER® was founded in 1873 and is headquartered in Kohler, Wisconsin, USA. Kohler Co. is one of America's oldest and largest privately held companies. Kohler Kitchen and Bath Group has more than 42 manufacturing locations worldwide and is a global leader in the manufacture of kitchen and bath products; engines and power systems and decorative products; and is owner/operator of two of the world's finest five-star hospitality and golf resort destinations in Kohler, and St Andrews, Scotland.

For media enquiries, please contact:

Touch PR & Events Pte Ltd
Marissa Claire Chong
Senior Account Executive
T: 6295 2077
E: marissa@touchpr.asia

Tan Sin Yi
Associate Account Executive
T: 6295 2077
E: sinyi@touchpr.asia

Kohler Singapore Pte Ltd
Rachel Foong
Marketing Communications Manager,
South East Asia
T: 6577 1850
E: rachel.foong@kohler.com

Teen Renda
Marketing Department
T: 6577 1844
E: renda.teen@kohler.com